It's Christmas time! Well, almost. Which means that it's the Christmas music season. No, I don't mean the endless loop of Christmas music that you hear at department stores and such, most of which just sound like Musak these days. (And, yes, I know: Who actually goes to department stores these days???) What I do mean is new, original Christmas music that's just good music. 
Here's an example: Christmas in Philly by The Missing Years. It was released last Christmas as a single (and then again on the Well, I'm Sixty-Four EP this year). And after sitting dormant for a while, it's getting quite a bit of air play on WXPN (or at least XPN2, the "Jingle Jams") this Christmas season. But that was just a shameless plug. 
The new Christmas music that I'm talking about today is from JD McPherson. JD McPerson, from Broken Arrow, Oklahoma, makes great "retro" sounding rock and roll music. You can hear him on radio stations like WXPN in Philadelphia. And, when you do, you realize that he's carrying on the spirit of Buddy Holly  and some of the great rock and roll pioneers of the 1950s. 
And, lucky for us, JD McPherson made a Christmas album this year. I first took note of it when I heard JD interviewed on Terry Gross's "Fresh Air" a few weeks ago. JD and his band played a few of the songs in the studio, and (as you've come to expect from Terry Gross), the interview was insightful and charming. So I quickly bought the new album, and my review is simple: It's great from top to bottom. I bought it too late to include any of the songs on my official Christmas 2018 mix, but a song or two from the album is certain to be included on the Christmas 2019 mix (even though the market for my free Christmas CD has shrunk to about a handful of folks, including my 91 year old mom).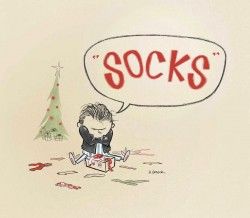 So, in the Christmas spirit, here's Hey Skinny Santa from JD McPherson's new Christmas album, Socks.