I bought an old school CD yesterday. It's the first CD that I've bought in a while. But it was so worth the 15 bucks that it cost. What was it? Well, it was the new record by Dave Alvin and Jimmie Dale Gilmore called Downey to Lubbock. 
Dave Alvin and Jimmie Dale Gilmore, both of whom are amazing singer-songwriters and performers, started playing shows together last year, and they released Downey to Lubbock this year. The record includes a couple of new, original songs, along with 10 classics. I've already listened to it twice. It's a great album. 
Yesterday, Dave Alvin and Jimmie Dale Gilmore did a World Cafe (the radio show) session at World Cafe Live (the music venue), and I was lucky enough to be there. Dave, who founded The Blasters back in the 80s, is from Downey, California, and Jimmie Dale, who is a little bit like the second coming of Willie Nelson, is from Lubbock, Texas. So...Downey to Lubbock.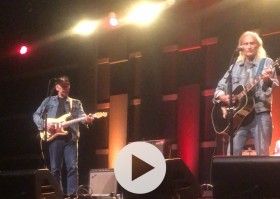 Dave, with the low, low voice, played the electric lead guitar. And Jimmie Dale, with the higher Willie Nelson-like voice, played the acoustic rhythm guitar (and claims to have never played an electric guitar) and played the harmonica. They blend together like peanut butter and jelly. Just perfect. 
And they're both chatty, funny guys, who seem to very much enjoy being on stage with each other. This is a pairing that probably should have happened years ago. But the important thing is that it's happening now. 
I was a Blasters fan back in the day, but I confess: I did not know that Dave Alvin was the frontman for the group. And I haven't really thought about the Blasters in a long time. On the other hand, I've been a fan of Jimmie Dale Gilmore since, oh, maybe the mid-80s. He's always been a favorite of mine, although I hadn't heard anything new from him in years. So this new collaberation is a real treat for those of us who like a mix of country and blues and honky tonk and rock and a bunch of really good songs done by some really talented musicians. 
One of the songs on the new album is a traditional American folk song called Stealin', Stealin'. Dave and Jimmie Dale do it to perfection. So here is an acoustic version of Stealin', Stealin' by Dave Alvin and Jimmie Dale Gilmore.