I saw Greensky Bluegrass yesterday morning. Yes, morning. The five-man group was in town to tape a World Cafe (the radio show produced at WXPN) session at World Cafe Live (the music venue adjacent to the WXPN offices). Talia Schlanger hosted the taping, and I was lucky enough to be in the group of folks who were invited to see the taping live.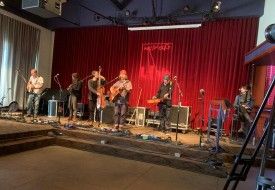 I knew about Greensky Bluegrass, and I heard a few of their songs on the radio. But I really didn't pay much attention to them, and I had exactly zero of their songs in my iTunes collection, and I never punched them up on Spotify. But, when the invitation to this taping arrived, I knew that it was time for me to learn more about them. 
I've always liked bluegrass - - enough to often listen to the Bluegrass station on SiriusXM now and again. And enough to listen semi-regularly to bluegrass legends like Doc Watson and bluegrass new(ish)comers like Trampled By Turtles. So I was anxious to learn more about Greensky Bluegrass. 
Until I looked at their website, I had no idea that Greensky Bluegrass has been around for 18 years, or that they play up to 175 shows a year, or that they have a "Grateful Dead"-like following. This Michigan-based group is a seriously big and successful jam band. And they're very good. 
They're an engaging group of guys, led by Anders Beck, the dobro player, along with Dave Bruzza on guitar and vocals, Mike Devol on upright bass and vocals, Paul Hoffman on madolin and vocals, and Arlen Bont on banjo and vocals. Their sound ranges from traditional bluegrass to kind of a harder-edged rock & roll bluegrass. And it's all great. 
Their new album, All For Money, was just released two weeks ago. And, along with the, as always, charming and insightful interview by Talia Schlanger, we heard Greensky Bluegrass play a bunch of songs from the new album. It was a most delightful morning. 
Here is Murder of Crows, my favorite of the songs that Greensky Bluegrass played yesterday.