I've written about Matt Lyons before. Matt has been my guitar teacher since 2013, and he's played lead guitar on each of my three studio albums (and the out-of-print album that we made right here on the computer with Garage Band). Matt is a gem. A stand-up, classy, talented guy. And you can read more of my thoughts about Matt in this post  from last year.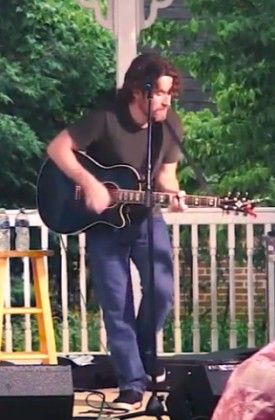 One of the things that I mentioned was that, even though Matt is the frontman for the rock group, The Parameters, and has played in other bands, his ultimate success very well may be as a "Dylan-like" singer-songwriter. And this past weekend, as part of the Bryn Mawr Twilight Concerts, Matt had a chance to showcase his amazing talent and songs. Matt played with Nick Gunty (1/2 of Frances Luke Accord) and me in our 30 minute set when we opened for Dar Williams. Our set included three Matt Lyons originals, including two break-up songs and one protest song.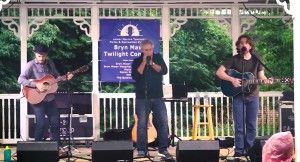 All three of the songs are fabulous. But I'm going to feature the protest song today. It's called End These Wars. And it's so relevant to the world we're living in now, particularly with the political mess that we're now experiencing. 
So here it is: Matt Lyons, with Nick Gunty and me, doing End These Wars.