You don't need me to tell you about Bob Dylan. If you're here, you know about Bob Dylan. 
What you might not know is that "they" just released a follow-up to one of Bob's most iconic albums. Blood on the Tracks was released in 1975. It was awesome then. And it's awesome now. Songs like Lily, Rosemary and the Jack of Hearts, Shelter From the Storm, Simple Twist of Fate and Tangled Up in Blue grabbed me from the jump. It was, for me, the best Dylan album since Nashville Skyline in 1969.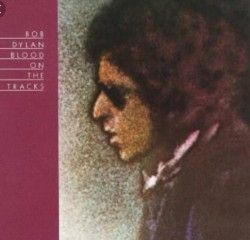 For the most part, with a few exceptions, Dylan lost me after Blood on the Tracks, and some of his more recent recordings have been virtually unlistenable. (But maybe some true Dylan devotees found something to like on 2009's Christmas in the Heart.) 
This month, though, the release of More Blood, More Tracks has me excited about Bob all over again. These previously unreleased stripped down tracks are so cool. As a songwriter (I can call myself that, right?), it's fascinating to hear the early "drafts" of these amazing songs. And often a new version (or an old version, as the case may be) gives new life to an old song. In this case, More Blood, More Tracks does just that. 
So, to honor this new release, here's Bob Dylan doing Simple Twist of Fate back around the time that Blood on the Tracks was released in 1975. This version is very much like the "new" version of More Blood, More Tracks, although the More Blood, More Tracks version is stripped down even more than this recording. Check out the ruffled shirt and bell bottoms. Let's face it: It was not a good time for fashion. 
Addendum Jan 22, 2019: The video that I linked to was taken down from YouTube, so I'm now linking to this audio only version of Simple Twist of Fate from 1975.