I don't know a whole lot about Marty Robbins. I do know that he was a very successful and prolific country singer in the 50s, 60s, 70s and 80s. And, on top of that, he was a Winston Cup NASCAR driver for over a decade. I, of course, never saw Marty Robbins live, and I really didn't pay much attention to him back in the day. But his name, and a song that he made popular, In The Valley, came up recently when Matt Lyons, Nick Gunty and I were preparing to open for Dar Williams as part of the Bryn Mawr Twilight Concert Series. 
Matt and I played at the Bryn Mawr Gazebo in 2016 and 2017, opening for Cheryl Wheeler and then Jonatha Brooke. It rained both nights. This year, I asked Nick Gunty, who is one-half of the amazing folk duo, Frances Luke Accord, and who, along with the other half of Frances Luke Accord, Brian Powers, made significant contributions to my new album, Well, I'm Sixty-Four, to join Matt and me for this year's show. And Nick, who's become a good friend and who is about the nicest guy in the world, said that he'd be delighted to join us. And he did. 
Nick is a very accomplished musician. His music is interesting and unique. He is a trained drummer and a sophisticated guitar player. He produces music. He writes music. He records music. And, along with Brian, makes music with the prettiest harmonies that will simply make your head spin. Seriously, Nick and Brian are the second coming of Simon & Garfunkel. 
And, in a humbling development, for a night in July in Bryn Mawr, Nick, along with Matt, played with me.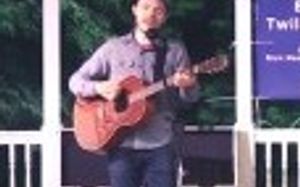 As we were planning our set list, I really wanted Nick to take the lead on a song or two, and I didn't want to "force" him to play a Frances Luke Accord song without Brian. And, out of the blue, Nick suggested Marty Robbins' In The Valley. I probably had heard the song, but I certainly didn't know it. But, as soon as Nick sang it for the first time, I was hooked. It was beautiful. And (don't tell Marty) Nick's version was better than Marty's. So the song was immediately added to the set list. 
And, on July 21, at the Bryn Mawr Gazebo, Nick's beautiful voice was featured in this "guilty pleasure" cowboy love song. Nick and Matt both played acoustic guitar, I added a little cowboy harmonica, and the rain joined us with some percussion. It was a beautiful moment. 
So here is Marty Robbins' studio version of In The Valley, and here is Nick Gunty, along with Matt and me, doing a live version of In The Valley.