Kacey Musgraves was a slightly unconventional choice for a WXPN Free-at-Noon concert at World Cafe Live a few weeks ago. Kacey is an up-and-coming country star. And XPN seems to be trending away from country / folk / Americana these days. But, sure enough, there she was doing an early show for XPN members. And I was there. 
Kacey was wearing amazing knee length gold sparkly boots. And looked every bit the part of a country star. But she is humble and fun and oh so talented.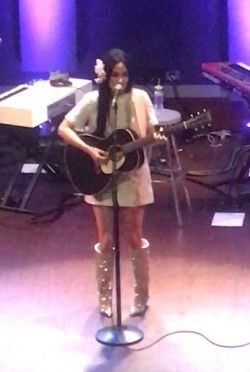 XPN, as they typically do with most new albums (and old ones, for that matter), plays mostly one song (and occasional another) from Kacey's great collection of songs. In this case, XPN plays Slow Burn (from Kacey's new album Golden Hour) over and over again. They played it twice today already. Which is great, except it would be greater if they played other songs from her new album, like Rainbow, for instance, sometimes. You know, get out of the old top 40 radio format (although, in XPN's case, with its version of AAA hits rather than actual top 40 hits, which is a good thing). 
But I'm not going to feature any songs from Kacey's great new album. Instead, I'm going in a different direction. A John Prine direction. Why? Because Kacey is a John Prine fan. And, I mean, who isn't? 
So here's John Prine telling his story of when he met Kacey Musgraves, and Kacey Musgraves singing her amazing song, Burn One With John Prine.