Back in August of 2016, I featured The Cactus Blossoms and their song called Clown Collector. So, for the very few of you who read that post, you know that brothers Jack Torrey and Page Burkum are the second coming of the Everly Brothers. And you know that they are very good. 
But what you may not know is that The Cactus Blossoms have a new record dropping this coming Friday, March 1. And a week and a half ago, Jack and Page, along with their touring band, did a WXPN Free-at-Noon concert in which they played a handful of their new songs. So I had a preview of what's to come. And what's to come is amazing!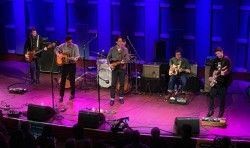 Still a throwback band, and still sounding like they could have come directly from a 1950s sock hop, the new songs are sophisticated and beautiful. And I'm so much looking forward to the new album, Easy Way, which I pre-ordered on iTunes, when it arrives on Friday.  (Yes, I still actually buy albums of certain groups and singer-songwriters, and The Cactus Blossoms are a "must buy" band, even though I could easily listen to their new tunes on Spotify.)
One of the early released songs from the new album is Got A Lotta Love, which, of course, features the lovely harmony of Jack and Page, and is just beautiful. So here it is: Got a Lotta Love by The Cactus Blossoms.